Our patented design evenly distributes weight to protect glass bottles and cans from sudden impact.
These boxes are certified by FedEx, UPS, and ISTA, and you can only find them here.
Hexabox shippers are biodegradable, sustainable, and eco-friendly. Save money when you buy in bulk!
Pulp wine shipping boxes are perfect for wineries and other businesses that ship glass bottles.
Our pulp wine shippers have molded inserts and corrugated cardboard outside cartons.
These convenient and easy-to-use trays lay flat, helping you reduce storage space and transportation costs.
Styrofoam shippers keep your products at a constant temperature during the delivery process.
These wine shipping boxes are durable and protect your products from extreme weather conditions.
Available in XL, magnum, and larger sizes to satisfy all your shipping needs and keep your products safe.
As of 2022, Gorilla Shipper has…
Over 5,000+ wineries & breweries served!
Over 3 Million bottles
& cans shipped in our
patented Hexabox!
Over 7.7 million
bottles & cans shipped
in Gorilla Shippers
Gorilla Shipper is America's #1 choice for wine, spirits, non-alcoholic beverages, olive oil, and vinegar shippers. Our beer and wine shipping boxes are durable, eco-friendly, and reliable. We've designed our can, jar, and bottle shipping boxes to protect any size product you wish to ship. Gorilla shippers are sturdy and can withstand the roughest environments. They are tested and approved by the International Safe Transit Association (ISTA), FedEx, and UPS.
All products in our lineup are gorilla tough, lightweight, and easy to assemble. Our Hexabox corrugated shipper boxes are designed to be used multiple times, cutting your costs and environmental impact. We take pride in our innovative design and production process. With Gorilla Shipper, you get the highest quality shipping solutions at the best possible price while protecting the environment at the same time.
Get Your Boxes in a Flash
With three warehouses across the country, we ensure a speedier shipment to you. We understand the importance of fast delivery, and do our best to get your order to you as quickly as possible. Prefer to pick up your wine shipping boxes? Contact us for more info!
Due to nationwide transportation issues, shipping delays and extended lead times may occur. Ordering ahead is strongly advised!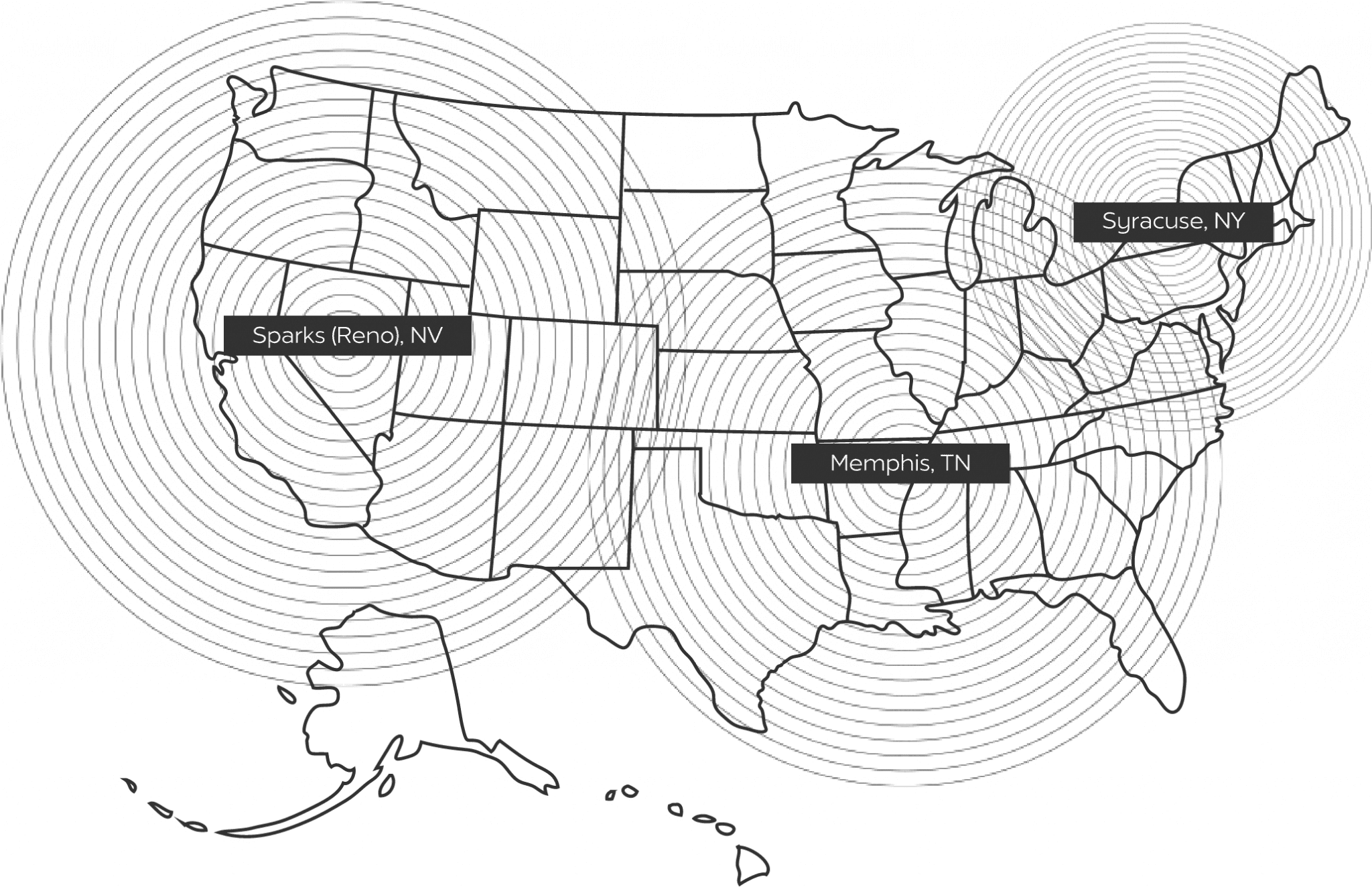 Words From Our
Clients
"Gorilla Shipper has been a fantastic company to work with. They have supplied the boxes we need at the lowest prices and are always a pleasure to work with. Gorilla Shipper is a trustworthy company that you can count on for your business."
"Great Value, fast delivery, low cost shipping, compact storage, easy to use, recyclable, great customer service – Do I really need to say more?"
"We have been using the Gorilla Shipper Wine Boxes for the past three years for our Wine Club shipments with Fed Ex as our carrier and have not had one shipment returned because of breakage. We have found their product cheaper than many competitors and their minimum order less restrictive—good for us smaller wineries."
"These boxes have been a game-changer for our D2C non-alcoholic wine company. Not only do they cost significantly less than the standard pulp boxes we were buying from another company, but the lie-flat inserts have saved us so much space in our warehouse. We were concerned that the necessary insert folding would slow down our fulfillment process, but once you get the hang of it, these take just a few seconds to put together…no longer than what it takes to separate the pulp inserts from one another. They hold the bottles nice a snug, and our customers seem to be enjoying them as well. So happy we found these!"
Industries We Serve
Wineries
Breweries
Spirits
Condiments
At Gorilla Shipper, we provide premium quality condiment, beer, and wine shipping boxes to wineries, breweries, non-alcoholic beverage businesses, olive oil and vinegar producers, as well as any other company shipping fragile bottles. Our boxes' innovative designs make them the perfect solution for shipping your cans, jars, and bottles safely through all bumps of the journey.

If you're an ecommerce business or offer monthly subscriptions, you can save a great deal by buying our bottle shipping boxes in bulk. Our client base consists of small-to-medium-sized wineries, wine clubs, liquor distributors, craft breweries, and condiment companies. We have the right lineup to keep your products safe no matter what industry you're in. Enjoy peace of mind knowing your customers will receive their orders in perfect condition.
Unmatched in
Strength Service Stability Security Sustainability Simplicity
Our ultra-strong, patented Hexabox™ corrugated shipping boxes are uniquely crafted to provide superior protection for your most fragile and valuable products, even through the roughest terrains.
Eco-Friendly Products
All our Hex and pulp wine shipping boxes are 100% recyclable to provide you with a sustainable way to ship your products.
USA Made + Multiple Shipping Locations
We are proud that all our can and bottle shipping boxes are American-made. Our distribution centers are located in Nevada, Tennessee, and New York, ensuring a speedy delivery to you.
Gorilla Shipper's foam, magnum, and large format wine shipping boxes drop-ship from California. All outer cartons are shipped flat, which saves you space and money!
Strong & Reliable Shippers
Our wine and beer shipping boxes are extremely tough, performance-tested, and approved by FedEx, UPS, and the International Safe Transit Association (ISTA).
They are lightweight and easy to assemble, while built to take a vigorous beating during shipping.
Shop Gorilla Shippers
At Gorilla Shipper, your satisfaction is our number one priority. We pride ourselves on providing unparalleled customer service and go the extra mile to let you know you're like family to us. We've streamlined our online processes to provide faster shipping and the best shopping experience possible. Whether you're ordering bottle shipping boxes with us for the first time or re-ordering as a repeat customer, we are here to answer whatever questions you may have.

It's a jungle out there, and Gorilla Shipper knows that better than anyone else. We ship all orders out as quickly as possible and understand your need to receive your purchased items on time. Once you've received your beer or wine shipping boxes, check out our video tutorials for folding and assembly. The tutorials will save you a great deal of time and energy and help you get your products shipped out efficiently. If you have any questions, don't hesitate to contact us. We'd love to hear from you!